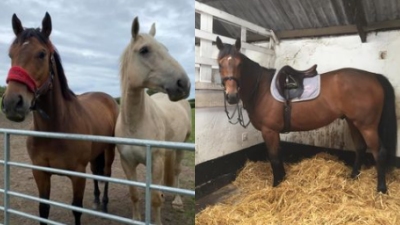 Farlington relaxing at home
| | |
| --- | --- |
| | Tuesday 20 July 2021 |

Farlington is a very impressive stamp of a horse. He ran several times in Point-to-Points before he was offered for sale. We knew he had enormous potential as an eventer, the simple reason for his sale was that he wasn't a racehorse. Out of racing, Farlington's talents would soon come to the fore.

He was purchased by Marie Elizabeth Wilson and here she takes up the story.

It all started from losing my thoroughbred Duncan at 29 years old. I convinced myself that I could cope without another thoroughbred (and be happy with only my other horse a cob x sport horse) but after 6 months I started to look and my yard owner found Farlington (AKA Frankie). I looked at the videos and pictures and mulled it over and thought no harm in going to see/try him and when Mick and the trainer brought him in I got a lump in my throat as he had the same markings and kind eye my other one had but tried to push them out of my mind and watch him be ridden and ride him myself, oh boy once I sat on him he just knew he was the one, even more so once I had ridden him around then once I dismounted he followed me then I knew he had found me and I had found him we were right for each other but I still told myself to sleep on it to make sure.

I couldn't get him out of my head and decided to buy him and he has been one of the best decisions I have ever made Frankie is so loving and kind and takes everything on Baird and learns so easily.

But come August 2020 we were hit with the EHV virus and had to be locked down Frankie became ill along with some others horse on our yard but he's come through it with excellent vet care and all the yards care.

I then become seriously ill with COVID-19 and it has attacked my heart and during this time Frankie has been an angel as I couldn't ride due to breathlessness and chest pain we have done loads of ground work and he has took this all on board, he has learnt to just stand still when I get off and untack him (no need to tie-up), he stands at the mounting block quietly until I am on board, understands voice commands (walk, trot, canter) on the lunge I know this wasn't what we had planned for the past year I had hoped we would be out competing at least at unaffiliated show jumping and cross-country but due to health reasons we have took this year to bond from the ground up.

Frankie has just come back from my friend who breaks in and re-backs horses and after a couple of weeks told me to come and get him as he was an angel and all the work I had put in (and the fantastic work he had already received from yourself before purchase) he was one of the nicest horses and there was not anything he needed to work on.

Frankie has just had his first saddle fitted today and stood like and angel whilst different ones were tried on and the saddle fitter commented on how well behaved he was for his age. The saddle fitter weigh taped him and he is a good 525kg.

I credit his temperament and kind nature to yourselves for giving him the best start possible and Frankie will be with me for life. He is an important part of the family (I have two horses, Frankie and Music, and my daughter has two horses, Rou and Rhona).

Frankie had big shoes to fill and he fills them very well I believe horses always find there owners and that's what Frankie did with me hopefully this year we can get fitter (that's the both of us) and we will be out there competing hopefully in the autumn.

He has the life of a king, he's out 24/7 at the moment and on one meal a day of top spec balancer, fibre mash and chaff (he's a bloody messy eater has it all over the place and his nose he stole my heart that first day I saw him and knew he had to be mine he's just so loving and wouldn't hurt a fly such a softie.

I just can't thank you all enough for letting me be his new owner!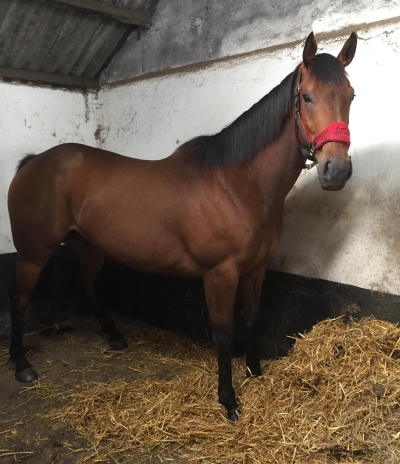 A very impressive stamp of a horse, Farlington will soon be competing.